Holistika7TM provides the framework that will give Project Managers and the sponsors the right tools to point the organization and stakeholders in the right direction. This is so that the same level of importance must be given to the activities preceding and following the implementation of the plan as they would normally apply with the phases in between each stage. The concept behind this is that you first have to shape the block into a sphere.  This will make it easier to roll the object up the ramp, reducing the effort needing to be applied and minimizing how the changes have impacted the organization after undergoing an ERP implementation.
With the clear definition of the Business Excellence targets and their corresponding metrics upfront, a different perspective is created to help you measure success in a tangible way with your ERP implementation, or any other types of IT projects that are being driven by the business.
Holistika7TM also introduces the important principal of Green Thinking to an organization that gives the project stakeholders the opportunity to pursue and improve their Green KPIs (Key Performance Indicators).  This is done by defining goals that are in alignment with concepts of Sustainability in Project Management under the new stream of excellence named Green Excellence.
Once an organization has chosen a classic ERP methodology to use, whether it is waterfall or iterative centric; or whether it uses the PMI®'s five Process Groups in each phase or moves along based on Agile Sprints and Backlogs, the Holistika7TM framework can be incorporated so the entire Project Team can start to work in a more holistic way.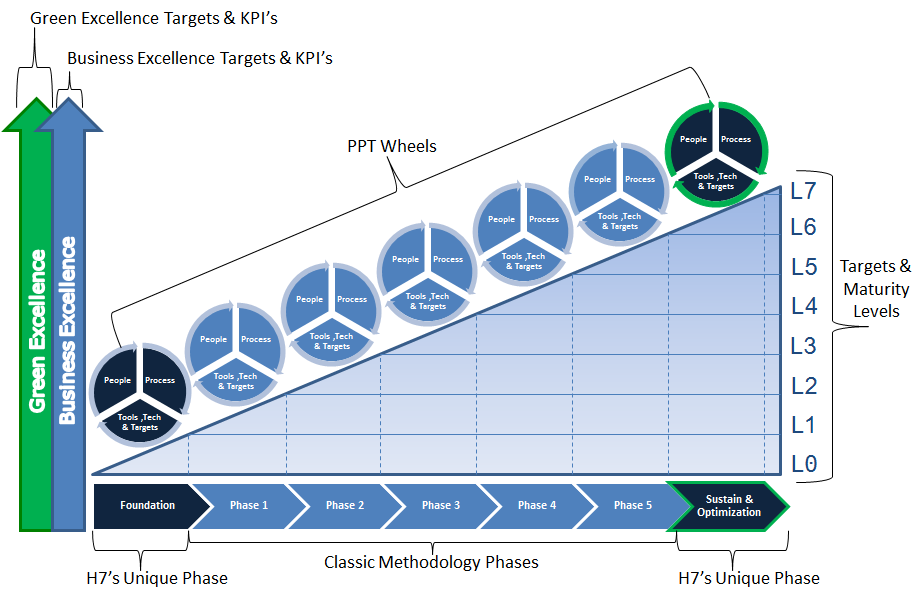 Introduction > Concept > Framework > The Unique Phases > Continuous Improvement > Roles > Artifacts > Values